Latest News
Rostering has been revolutionised for TCKC
30 Aug 2022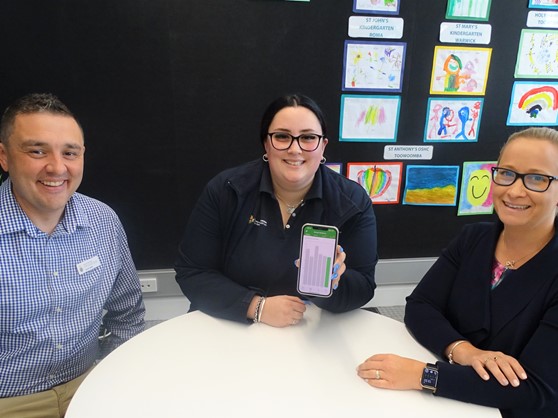 The recent roll out of a new app called RosterElf is already making life easier for those working in Toowoomba Catholic Kindergartens and Care (TCKC).

The roster management app allows staff at TCKC to create rosters, swap shifts and track timesheeting in real time via a smartphone.

It makes swapping shifts so much simpler and empowers staff to manage their own shift swaps but also gives managers full control of the process, making it easier to fill a roster.

Manager of TCKC, Aaron Wells, has seen many advantages for staff using this new technology.

"We are truly valuing our staff as they get more opportunities to take additional shifts if they are available and to capitalise on their flexible work arrangements with the shift swap ability," said Mr Wells.

"It also allows staff to clock in and out conveniently from their smartphone, allowing for more accurate time sheeting for both the staff and our payroll department."

"Coordinators lives are made easier too as they can see staff availability through the app, which previously had to be done via multiple emails and phone calls," said Mr Wells.

"This has revolutionised how we do things making it much easier to manage the 86 casual staff that work in our kindergartens and Outside School Hour Care (OSHC) programs."
"We are extremely proud of how our workforce has embraced this innovative approach.
It has provided them so many efficiencies," Mr Wells said.
"We couldn't have achieved these outcomes without the assistance from Toowoomba Catholic Schools (TCS) Strategy and Innovation, Finance, Information Services and Employee Services teams."
The feedback from the Coordinators has been amazing, with rostering taking five minutes instead of being a task that took at least an hour.

Taylor McDonald, the OSHC coordinator at St Saviour's Primary School Toowoomba, said that this technology has been a real game changer for them.

"This new technology has helped me be more productive as now I can save roster templates that can be uploaded and easily edited if need be," said Ms McDonald.

"This saves so much time as we no longer have to write up a brand new roster every week."

"Also completing staff timesheets is now a five minute job instead of a long manual process," Ms McDonald said.

"It has assisted staff to access their rosters quickly and easily and makes it easier from them to log in and out for their shifts."

"RosterElf is very easy to use. We were well supported as we began implementation and staff were provided with many training sessions," said Ms McDonald.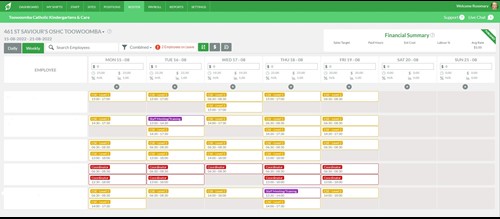 An example of RosterElf in action.
COVID-19 Information
12 Jan 2022
Covid – announcements from the department can be tracked on the DESE website
Please keep your children at home if they are feeling sick and get them tested.
Early learning at home
30 Jun 2021
Browse the fun and interesting experiences you and your child can do together at home to support their learning, development and wellbeing.
Kindy in Queensland
30 Jun 2021
This factsheet provides parents with useful information on the benefits of a Queensland Government approved kindergarten program.
Starting Blocks
16 Jul 2020
Learning begins from the minute your child is born.
Before and After School Care
16 Jul 2020
Welcome to our new Website
06 Dec 2019
We hope you like the new website. Any feedback is appreciated.